Delicious e-liquids are one of the most significant parts of any vaper's kit, and they have the power to make or break the vaping experience. If you happen to be looking for some brand new e-juices to try out, then be sure to check out our list of the most popular vape flavors. Thousands of satisfied customers couldn't be wrong about those scrumptious blends! Add them to your list and enjoy every delicious inhale. Check out the most popular vape juice flavours!
Table of Contents:
What are the most popular flavours of vape?
Hawaiian Pog by Naked 100
Any fans of tropical flavors will appreciate the sheer deliciousness of Hawaiian Pog, manufactured by iconic Naked 100. This fabulous blend is a mouth watering mix of sweet passion fruit, aromatic orange, and unique guava fruit. Together, all of those ingredients create a flawlessly balanced exotic and refreshing concoction, perfect for any hot day. Of course, Hawaiian Pog is 70% VG and 30% PG mix and is available in three nicotine levels – 0 mg, 3 mg, and 6 mg.
Killer Kustard by Vapetasia
Killer Kustard has already made a name for itself among the vaping community. It also scooped some awards in the meantime, which is no surprise to anyone who tried it. This brilliant vape juice combines the taste of smooth and creamy custard with vanilla richness. The end result creates a perfect balance between sweet and savory flavors and spoils your taste buds like no other. Of course, the whole Kustard line by Vapetasia is worth checking out as it also offers delightful versions with lemon, blueberry, strawberry, and honeydew. Choose your favorite and enjoy every single puff of this deliciousness.
Unicorn Frappe by Juice Man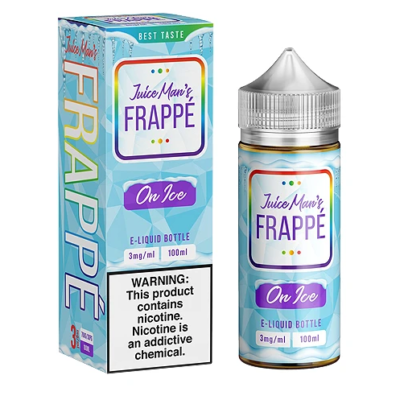 The name of Unicorn Frappe sounds quite unique, and that is certainly true in the case of this e-juice. This exceptional blend by Juice Man consists of fresh blue raspberries and juicy mangoes, which are coated with smooth whipped cream. The slightly sour taste of blue raspberry counterbalances the sweetness offered by cotton candy and whipped cream and makes sure you won't get tired of this e-liquid anytime soon. Juice Man offers this blend with a balance of 70% VG and 30% PG. Of course, customers can choose 0 mg, 3 mg, or 6 mg of nicotine in their products.
Strawberry Crunch by Taylor Desserts
Strawberry is one of the few iconic flavors loved by vapers around the world, and this Taylor Desserts blend is definitely a legend in this particular category. Customers appreciate the authentic and fresh taste of this fruit, which is combined with vanilla ice cream. Of course, strawberry is not the only star ingredient in this e-juice! Right next to this delightful fruit, you will also find buttery sugar cookies that seem to come fresh out of the oven. This delicious blend is a great choice not only for fans of rich strawberries but also for enthusiasts of bakery and cream flavors. Check out Taylor Desserts Strawberry Crunch.
Blue Frost by Propaganda The Hype Collection
Blue Slushee tends to be quite a popular flavor among vape juices, especially on hot days when you want to reach for something refreshing. However, the absolute number one in that category has to go to Blue Frost by Propaganda The Hype Collection. Why? Because this blend is the real deal! From the very first puff, you will taste the chilling deliciousness of your favorite cold drink, and the tiny amount of menthol will only add to the cooling feeling you're searching for. Choose the right nicotine strength and vape away with Blue Frost!
Pennywise by Bad Drip Labs
Are you in the mood for a trip down memory lane? If you want to hop to your childhood for a while, just reach for delicious Pennywise! This inviting blend from Bad Drip Labs combines two rich fruits loved by all – strawberry and watermelon. But that's not all! The vape juice wraps up everything nicely with the timeless taste of sweet bubblegum. It's a perfect choice for vapers who have a sweet tooth as well as those who want to taste some nostalgic flavors. Of course, the e-liquid is available with 0 mg, 3 mg, or 6 mg of nicotine.
Pink Blues by Puff Labs
If you want to give a truly great present to your taste buds, try Pink & Blues by Puff Labs and discover the overwhelming sweetness it provides. This delicious vape juice will welcome you with the unique taste of fluffy clouds of cotton candy. Every single inhale will supply you with the rich sweetness of caramelized sugar. It is worth mentioning that Puff Labs created this blend with a balance of 80% VG and 30% PG, and, of course, they made sure to include versions with 0 mg, 3 mg, or 6 mg of nicotine. Now you can enjoy your favorite cotton candy without worrying about a bunch of calories. Indulge all the way!